Piñata 45: The End of Her Rope
A woman dangles at the end of her rope in an historically suspended tale of Piñatas, Miss Universe and the fatal body politics of the feminine. Joined by her dynamic cast of grotesque-burlesque modern dancers, the PussyFleet ensemble moves through 500 years of re-appropriated rituals that involve breaking open, over-consumption, body manipulation and a re-framing of sex, race and power.
Piñata 45: The End of Her Rope 
Dance Mission Theater 3316 24th Street, San Francisco 
Friday, May 11 and Saturday, May 12 at 8:00 pm
Tickets $20    
"Piñata 45", a sarcastic reference to the president, as well as, to the dance company, is a breakable subject. While the former owner of Miss Universe and accused perpetrator of sexual harassment and domestic violence sits in the white house, the number of women speaking out against violence is rising.  For the Piñata Dance Collective, the body becomes a site and process of showing how resilient and fragile the body of the feminine can be.
On the pedestal of beauty, the stage becomes a memorial altar for women deceased by cosmetic surgery, suicide, eating disorders and violence. The underbelly of the Miss Universe contest reveals personal-political stories by the performers tackling racial oppression, objectification and misogyny through the multi-media language of movement, poetry, video and music.
The story of "Zinzi" written and performed by Issachar Curbeeon with musical composition by Chelsea Kirby, reflects on racism in the mirror of an African American girl with body dysmorphia. 

Ronja Ver, performs a piece about domestic violence as it relates to her past; and the story of Miss Venezuela is danced by Andreina Maldonado exposing the shadow of cosmetic surgery historically situated within a repressive government regime.

Boubion's, Piñata Humana, attempts to lift the blindfold off of the male gaze with guest collaborators Kyle Her, Cesar Soto and Scott Wells.

The evening includes a new iteration of "#DontGrab", the PussyFleet's response to the lewd conversation between Trump and Billy Bush featuring award-winning composer, David Molina. It was performed last November, for FLACC 2017, the 4th Annual Festival of Latin American Contemporary Choreographers, founded by Liz Duran Boubion.
Collaborative Artists:  Issachar Curbeeon, Ronja Ver, Andreina Maldonado, Kristen Rulifson, Dominique Nigro, Scott Wells, Kyle Her, Cesar Soto, David Molina and live music by Chelsea Kirby.
Check out Chelsea Kirby on Soundcloud~
GoFundMe
Support resilience and fragility of women in dance! The undertaking of high production is one of the grandest contributions to culture and consciousness we do. The cost is high on every level… financial, emotional, physical, mental…and the returns are immeasurable. We dive deep and can't do it without you! Please donate, purchase tickets, and share with social media.
Muchas gracias por su generoso apoyo!
Liz Duran Boubion and Piñata Dance Collective (AKA PussyFleet)
Help us reach our goal! Donate through our GoFundMe Campaign!
https://youtu.be/cRXwIS5x054
The Piñata Dance Collective celebrates our diverse heritages, our inclusive identities and our artistic innovations through multi-media contemporary dance performance and education.
Liz Duran Boubion, MFA, RSMT performs with local artists and teaches in the San Francisco Bay Area of California.  She is the artistic director of the Piñata Dance Collective and ¡FLACC! Festival of Latin American Contemporary Choreographers. She has held 7 choreographers residencies in the US and Mexico and is an associate teacher of the Tamalpa Institute. She received her Bachelors in Dance from CSULB and Master of Fine Art in Interdisciplinary Art with a Dance emphasis from California Institute of Integral Studies in San Francisco. She teaches on-going classes for youth and seniors and is a regular guest teacher in local universities and dance festivals. Ms. Boubion offers the following classes that are tailored to groups and individuals:
"I am using choreography and improvisation as a vehicle for personal and collective wellness, innovation and play.  Our creative power in movement opens our senses to the present moment fostering more sensible relationships with each other and the earth.  I am playing with the nature of impermanence, re-emerging in the flow between repetition and change, and finding language that communicates the essence, as well as, the diverse complexity of our human conditions.
…As a choreographer, vocalist, dance educator, Registered Somatic Movement Therapist and mother, I'm drawing from a broad base of interdisciplinary art modalities and life experiences that foster a flexible approach to collaboration and leadership.  By integrating therapeutic methodologies of Expressive Arts with rigorous contemporary dance techniques, I am developing a dynamic movement vocabulary and approach to the creative process that is accessible, enabling the classically trained dancer or a person new to dance training, to draw from their individual artistry and expression."
Contact: Chuparosadancing@gmail.com
Liz Duran Boubion and the Piñata Dance Collective are fiscally sponsored by Mission Cultural Center for Latino Arts, and suppor
ted by individual donors and community organizations.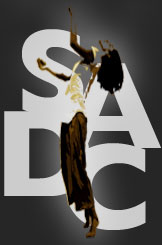 "My sessions with Liz are so magical. I am learning so much about myself and my abilities that would be impossible without her guidance." – Nirmala Nataraj, writer-San Francisco Chronicle
"Liz is a riveting dancer.  Her voice is articulate and
relevant with the themes and cultural metaphors she is exploring."  -Daria Halprin, Co-Founder of the Tamalpa Institute
"Elizabeth Boubion is a beautiful dancer and performer.  Her work is strongly influenced by her desire to put a spotlight on what is beautiful in the world as well as what needs to be changed or made fair."     -Jeff Slayton, Master Teacher/1st generation Merce Cunningham Company
"Liz is an amazing dancer, performer, choreographer and teacher. I have had the pleasure of working with her in the capacity as a teacher, co-performer, fellow choreographer and feel she would bring a high level of expertise and creativity to your organization or institution."  Artisitic Director, LIZZ ROMAN & DANCERS
"Elizabeth is skilled in the technical side of dance and performance- as well as in therapeutic methodologies for personal growth, health and well-being, and community building. Elizabeth works with all ages and abilities. She is a wonderful performer and dancer, who genuinely enjoys teaching, serving others, and collaborating."   -Taira Restar, Expressive Arts Educator