para los españoles traducción, haga clic en este botón
Liz Duran Boubion, MFA, RSMT performs with local artists and teaches in the San Francisco Bay Area.  She is the artistic director of the Piñata Dance Collective and ¡FLACC! Festival of Latin American Contemporary Choreographers. She has held 6 choreographers residencies in the US, Germany and Mexico and is an associate teacher of the Tamalpa Institute. She received her Bachelors in Dance from CSULB and Master of Fine Art in Interdisciplinary Art with a Dance emphasis from California Institute of Integral Studies in San Francisco. She offers the following classes that are tailored to groups and individuals:
"I am using choreography and improvisation as a vehicle for personal and collective wellness, innovation and play.  Our creative power in movement opens our senses to the present moment fostering more sensible relationships with each other and the earth.  I am playing with the nature of impermanence, re-emerging in the flow between repetition and change, and finding language that communicates the essence, as well as, the diverse complexity of our human conditions.
…As a choreographer, vocalist, dance educator, Registered Somatic Movement Therapist and mother, I'm drawing from a broad base of interdisciplinary art modalities and life experiences that foster a flexible approach to collaboration and leadership.  By integrating therapeutic methodologies of Expressive Arts with rigorous contemporary dance techniques, I am developing a dynamic movement vocabulary and approach to the creative process that is accessible, enabling the classically trained dancer or a person new to dance training, to draw from their individual artistry and expression."
Contact: Chuparosadancing@gmail.com
Liz Duran Boubion and the Piñata Dance Collective are fiscally sponsored by ABD Productions, by individual donors and community organizations.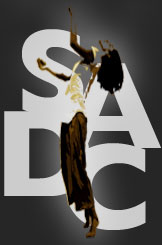 "My sessions with Liz are so magical. I am learning so much about myself and my abilities that would be impossible without her guidance." – Nirmala Nataraj, writer-San Francisco Chronicle
"Liz is a riveting dancer.  Her voice is articulate and relevant with the themes and cultural metaphors she is exploring."  -Daria Halprin, Co-Founder of the Tamalpa Institute
"Elizabeth Boubion is a beautiful dancer and performer.  Her work is strongly influenced by her desire to put a spotlight on what is beautiful in the world as well as what needs to be changed or made fair."     -Jeff Slayton, Master Teacher/1st generation Merce Cunningham Company
"Liz is an amazing dancer, performer, choreographer and teacher. I have had the pleasure of working with her in the capacity as a teacher, co-performer, fellow choreographer and feel she would bring a high level of expertise and creativity to your organization or institution."  Artisitic Director, LIZZ ROMAN & DANCERS
"Elizabeth is skilled in the technical side of dance and performance- as well as in therapeutic methodologies for personal growth, health and well-being, and community building. Elizabeth works with all ages and abilities. She is a wonderful performer and dancer, who genuinely enjoys teaching, serving others, and collaborating."   -Taira Restar, Expressive Arts Educator